Wero Whitewater Park
Wero whitewater park is a fantastic new facility in Auckland. With two whitewater courses providing grade 2 and grade 3/4 paddling and rafting in the city!
With an aim to engage young people and the community in whitewater activities. Increase whitewater safety training and awareness. And therefore in the long run, we hope, grow the sports of whitewater kayaking and rafting in New Zealand.
We were super excited when we heard about the go ahead for the Wero facility. Having experienced the huge benefits of the fantastic, challenging courses of the London Lee Valley Whitewater centre. (in our previous life!) We couldn't wait for Auckland to have the same man-made paddling opportunities!
Wero was designed by the very talented guys at Whitewater Parks International who designed both the London and Rio courses. Wero has a concrete channel and uses what's called 'rapid blocks' to create the features. This enables the course to be modified easily and keeps us on our toes!
Even though there are some amazing paddling destinations in Central North Island, it is a good 3hr drive from Auckland and so these courses do offer a convenient and intense training opportunity for paddlers whilst in Auckland city.
To be able to independently paddle on each course you have to pass an assessment. These can be booked online and take about 30 mins or so depending on group size and skills. The qualified instructor will check out your paddling abilities including your roll on the specified course.
Adventurers first tried out Wero whitewater courses in our creek boats shorty after it opened in April.
We completed the grade 2 (Tamariki River) and the grade 3/4 (River Rush) assessments in a morning and it was great!
Tamariki River – Wero Whitewater Park
The grade 2 course is tamer that the equivalent Legacy Course at Lee Valley London, however this is a bonus for beginners and also is a great place to introduce people to whitewater kayaking.
Wero offers whitewater kayaking introduction for $65 for a 2hrs session including gear and boat hire and qualified instructor. Beginner, intermediate and advanced sessions are then available as you progress. So if you've ever thought about getting into Whitewater Kayaking this is a great place to start!
If the London Lee Valley courses are anything to go by, having this type of facility significantly increases the number of people taking up the sport
River Rush – Wero Whitewater Park
The River Rush is higher grade, more technical and intense.  For the more experienced paddler, It's great fun, full of features to play on and has a drop (approx. 1m). It's a little less pushy and feels slightly smaller than it's big brother the London grade 4 Olympic Course. However, this is a super cool place to increase your paddle fitness and hone in on your skills ready for a summer on NZ rivers!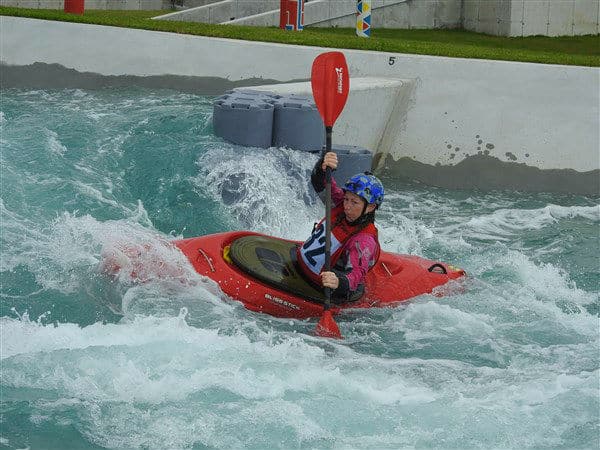 Progressing to New Zealand Rivers
If you want to get away and do some paddling but don't have the time to organise it yourself or you want a qualified experience coach to show you the best of NZ rivers, get in touch with us. Adventurers Travel Company can organise a paddling long weekend or holiday in North Island or South Island tailored to you and/or your groups abilities.