Sticky forest is a cool and well managed collection of tracks a short ride away from Wanaka town centre. It's the right sized area for having a play. Discovering tracks without constantly staring at a map, and yet still having the energy to find your way back to where you want to be.
We spent an hour or so trying out the tracks in the Plantations section of the map. Before heading off down onto Outlet Rd to join onto the Hikuwai Cons Area next to the banks of the River Clutha.
Outlet road took us down to the Lake Wanaka outlet and the start of the outlet track. This track is super beautiful, especially in the Autumn with the poplar leaves turning a dramatic yellow colour. The clear waters of the Clutha running alongside also make it an interesting few Km's. In summer, it's also cool as there plenty of opportunities to take a dip in the river.
Here the riding is easy, mainly flat with some undulation as it follows the river for 8km or so until the bridge.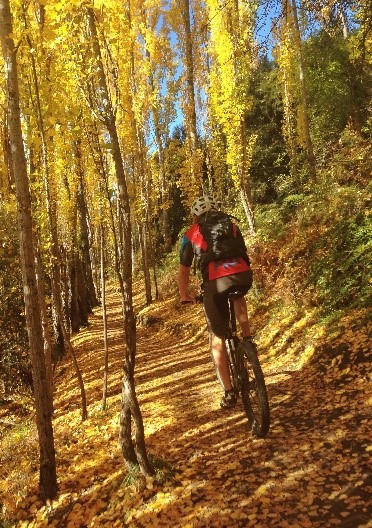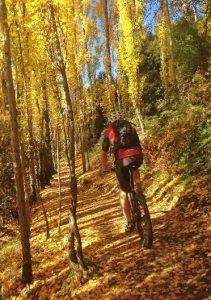 At Albert Town Bridge we crossed to the other side. We headed through the campsite to the start of Dean's track, which is a really cool, flowing track.  The track took us up to the top of the Clutha's steep East banks, where the views of Lake Wanaka and the Clutha are awesome. The track is more technical than the river track, with little climbs, smooth downhills, plenty of switch backs and berms. It's great fun and it's hard to keep your eyes on the track and off the dramatic views!
It follows the river back towards the lake, descends on a wicked section of downhill and then climbs back up to the top of the river bank. The track back up is an easy climb, winding through the bush. Where view appears once more. The riding hers is really fast and flowing.
We returned on the river track back along the Clutha to Lake Wanaka outlet. Finishing off with the section of track that follows the lake back to the road and back up to our car, in Platinum Road.
This collection of tracks is really rewarding for an easy few hours of riding, enjoying the lake and the river.
The detail:
Sticky forest tracks are not the easiest to navigate around, the map is not the easiest to orientate or navigate and we got a bit confused about which tracks were one way or not!
There are a couple of place that you can park your car for sticky forest, Audley Road or Platinum Road carpark.
Dean's loop track takes about 30-40mins.